Well, it's been quite a week and I'm glad it's about over.
MONDAY was crazy hair day at school. Those of you who know us know that 2 of our 5 granddaughters (and one of our sons) live here. So I get in on all the fun that is alimentary school again. This school has a unique way of fund raising. For $1.oo you can wear your hair ANY WAY you please. The money goes to the United Way. One day you might pay $1.oo and get to wear your pajamas to school! One day you might to wear a crazy hat. You see where I'm going with this. Here are pics of my little angels. Tuesday was stuffed animal day. Wednesday was get ready for Shelby's (the one in the jacket, birthday the next day.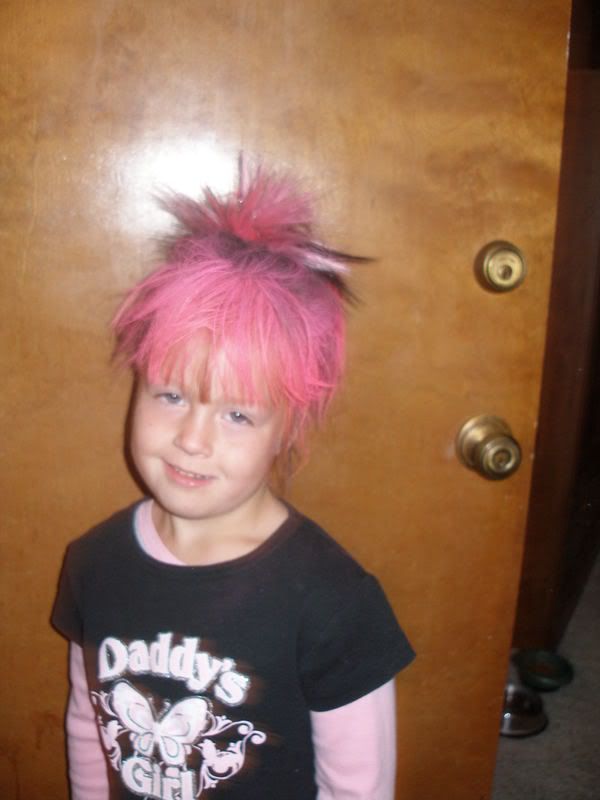 g
Richard's 95 year old mother fell in her tiny bathroom and broke 3 ribs. She is still in the hospital. She has been getting worse physically & mentally & acts like an angry child quite a bit. She swears it's all a conspiracy. Anyway, Rich has 2 sisters. One lives in MO and has been out here in Texas for monhs. Mary, the sis who lives here, is a retired widow & she & my mother in law were going to drive Polly back to MO. Doesn't look like that is going to happen. They are looking at putting my M I L in a nursing home. I don't know if temp. or perm.
I can't remember what day it was, I think it was Monday morning, maybe lastSunday, I hear the girls screaming & freaking out. I got up to see what's going on. Callie, the huntress cat got herself a squirrel and took in the girls' room. GROSS! Tom was on it and had gotten it into a bag and out of the house. Thank GOD it was dead. Then a couple days later, I'm home alone, having a cup of coffee. I hear Callie's bells. She comes in thru the dog door. She immediately stops at her cat post which has a bed on top of it with her food in it, but this time she ran right past it & hear those bells jingling in song. I followed the sound into the girls' room again & yes, she'd gotten another squirrel. I know they are gifts Callie, but flowers would be SO much more pleasant than a bloody & broken squirrel.I didn't know how to get her away from her.There's usually a man around to handle it. So I shoo her away and the girls have a small toy piano (I know gross). I laid it on top of the squirrel & ran out to get the shovel. I get the squirrel in the shovel but not all the way. I'm trying to slowly at least get it outside before it falls off the shovel. I got to the gate & it fell off. Ugh. Finally I get it in the dumpster. Then I got out the cleaners. Bleach the piano and clean the blood off the carpet, there was just a couple of drops. Callie USED to bring in these birds called grackles. They look a little like a crow. But she never took them all the way to another part of the house. Usually just past the door or in the hall. I hate those birds so I didn't mind her getting them so much.
I feel the same way about squirrels. Yes, they have cute little faces & furry little tails. Well, wait until they chew through the trim of your house & set up house keeping in your attic,tear up insulation, chew on wirings. they are practically impossible to get rid of. There are a BUNCH of Oak trees in this neighborhood which neans a lot or acorns. I must say having a cat that like to hunt HAS kept a lot of birds & squirrels away.
Thursday was Red & Black day at school (our college) Texas Tech's colors. We got looking through the girls' clothes & they really didn't have much that looked "techish." Tom worked Wed night. When he got off at 6am he stopped at walmart, bought the girls black jeans, plain red tshirts, drew the Double T logo & then took them outside & did a light spray of black spray paint over the double T.They turned out great! To keep them smelling of paint, he febreezed them & threw them in the dryer with several dryer sheets. Is he a great dad or what?
Thursday I had a hair appointment. Highlights & a cut. The 3oth was Shelby's 7th birthday. We had it at the Main Event. Bowling, laser tag, pool room, game room, whatever you can think of this place has I think. She just invited just a few girls, her cousins, Ashley & Hailey,my son Chad & wife, Malizza. Us of course. Bowling is paid for by the hour. We ordered two pizzas & 3 orders of chicken wings. (I LOVE hot wings.) They bowled, had cake,opened gifts. Pretty much that was it. Ater the party was over my sons & their daughters stayed to play in the game room.
Halloween. I FORGOT to take pics but Tom has some, so I'll get him to send them to me. I make beef stew EVERY year on Halloween. Doesn't matter what the temperature is. It's just something I've done since my kids were small. takes me rhe better part of the day to make it, as I cook it in stages. Doesn't matter what the temperature is outside. The stew has been a family tradition, since MY kids were little. Of course it was nearly 80 again Friday.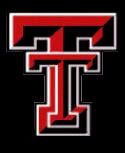 Saturday--COLLEGE FOOTBALL. Texas Tech Red Raiders(number 7 in the nation) VS Texas Longhorns #1 in the nation HERE in Lubbock. Oh God,those are great games!!
Saturday's game proved JUST as exciting. We led the whole first half, then Texas came out a little more fired up! It was looking pretty dismal until the last 8 seconds when Tech through a pass for a touch down and won the game! The fans took to the field with 1second left, so of course we got penalized, but it the game was over. Texas Tech is still unbeaten. Unfortunately I wasn't able to be at the game. We didn't even try to get tickets because when they were on sale, I was still recovering from my surgery & Richard didn't want me trying walk among a nearly 60,000 crowd of people. But nothing beats being right there in the crowd. We used to buy season tickets, but not for a few years, because of my feet. Oh well, as long as they are on TV! Well it's very late Sunday night and I started this Sat. I should end it now I guess. Hope you have a good week.